Moonlight Adventure
Tour Highlights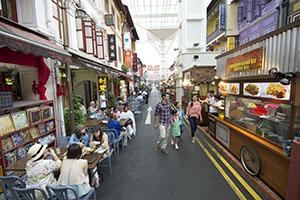 First Stop – Chinatown Food Street
The trail of good food certainly doesn't stop when the sun goes down. Tantalise your taste buds with signature culinary delights when you start your tour at Chinatown Food Street (includes $5 food voucher). Now you can taste the goodness of Singapore livin' by eating your heart out!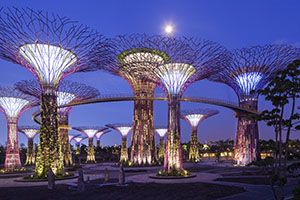 Second Stop – Gardens by the Bay
A visit to this buzzing metropolis isn't complete without a trip to Gardens by the Bay, a sprawling garden in the city providing mesmerising waterfront views across three gardens. Nighttime brings about its own series of magic – catch the signature Light and Sound show and watch the Supertrees come alive with a dazzling display of colourful hues bursting across the sky!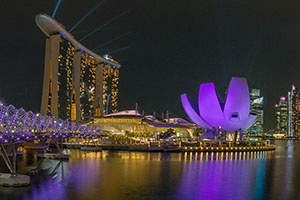 Third Stop – Marina Bay
Marina Bay is the quintessential embodiment of all things modern, up-market and super-stylish in Singapore, from trendy dining destinations to fun leisure spots. It's also the go-to destination for quieter pursuit, such as a mesmerising waterfront walk replete with breathtaking views or a soul-satisfying luxury shopping experience.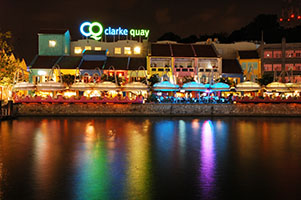 Fourth Stop – Clarke Quay
A great nightlife is a differentiating factor for Singapore, and what better way to enjoy it than to swing by Clarke Quay for countless quality food, beverage and entertainment options. From outrageous parties attracting both local and international clientele to a plethora of retail concepts, excitement abounds at this beautiful riverside quay!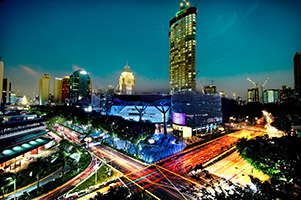 Fifth Stop – Suntec City
Suntec City plays home to the famous Fountain of Wealth, the largest fountain in the world, which visitors frequent to wish for luck and prosperity. This mall also attracts a great following with fashion favourites, homegrown brands radiating pizzazz and loads of other lifestyle choices. The DUCK & HiPPO Hub is located here!
Overview
Perfect for first-time visitors who desire to see Singapore's defining skyscrapers in the horizon
Start your Moonlight Adventure tour with a taste of local street food at the Chinatown Food Street (comes with $5 food voucher). After tucking into satisfying eats representing the most authentic Singapore dining experience, such as Char Kway Teow and Satay, enjoy a serene walk through the beautiful nature park and catch the spectacular Light & Sound Show at Gardens by the Bay.
Next, we head to Marina Bay, where you can enjoy mesmerising waterfront views or indulge in some luxury shopping at MBS. Pick one experience, included in the price: Choose between visiting Level 57 of the iconic MBS SkyPark where a magical skyline awaits or cruising down the historical Singapore River. An after-dark voyage would not be complete without venturing into Clarke Quay, Singapore's quintessential dining and nighttime entertainment haven. Finally, end the night at Suntec City, the second-largest mall in the island city.
What to Expect
Sightseeing

Chinatown Food Street is a yummy blast from the past, the perfect offering for foodies who would like to relish iconic treats beloved among locals in the classic al-fresco setting. With the $5 food voucher, you get to feast on a selection of dishes that underscore Singapore's rich multi-cultural heritage.

Gardens by the Bay by night is a visual treat like no other. Watch the Garden Rhapsody show while you're there - a feel-good performance where the Supertrees come alive in a dazzling display of light and music.

Marina Bay is the embodiment of all things modern and stylish. From trendy dining destinations to luxury shopping, this attraction is a must-visit for first time and repeat visitors alike.

Today, Clarke Quay is more alive than ever abuzz with nocturnal life and activity. The waterfront go-downs play host to a colourful kaleidoscope of restaurants, pubs, wine bars, entertainment haunts and retail shops.

Suntec City is widely recognised as one of Singapore's most exciting retail destinations, enthralling shoppers with a curated mix of retail stores comprising everything from high street fashion to electronics to lifestyle brands. It is also where the magnificent Fountain of Wealth – intricately designed such that the water flows inwards (representing riches pouring in) – is located.
Experience

Our intricately planned itinerary aims to set an unforgettable tone for your after-dark exploration, where participants will go to the city's leading points of interests and experience what's most famous about each attraction - be it food, the mesmerising skyline or the vibrant atmosphere. Many have reflected that this is a truly eye-opening 3-hour tour, perfect for anyone, from solo travellers to couples to families with kids, to participate in.

Tips:
1. Wear comfortable shoes as there is a fair amount of walking to do.
2. Bring a camera and work out the camera settings – plenty of picturesque moments await.
Check-in Information
Start Point: Suntec City
Tour Duration: Approximately 3 hours
Departure time: 6:30pm daily
Admission: $67/A, $47/C (3-12 yrs)

For reservations, call +65 6338-6877
Pick One Experience
Choose either one experience – included in the Moonlight Adventure price. Couples can go on a romantic river cruise while photography enthusiasts are highly recommended to go up to the iconic Sands SkyPark Observation Deck for a breathtaking view and stunning shots.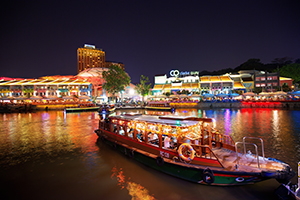 Experience 1 - River Cruise
Sail down the Singapore River and be charmed by rare sights of charming shophouses along the northern banks, softly-lit bridges and funky art-deco structures.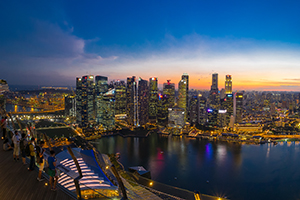 Experience 2 - MBS SkyPark
Upheld as one of the best spots for photographing Singapore's skyline, the MBS SkyPark is every shutterbug's dream. Not only does it offer views of a panoramic vista, this spacious open-air observation deck eliminates the trouble of overcrowding and glass reflections.